Temporarily sold out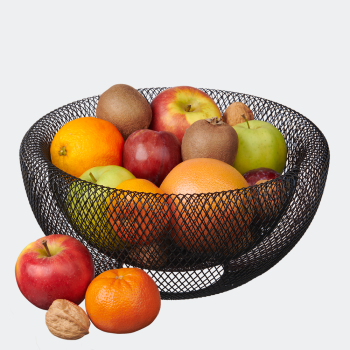 This stylish fruit bowl is a real eye-catcher on your kitchen table. The open-ended bowl ensures that you have a constant circulation of air, making the fruit less likely to overripen
Information
Geef eens een fruitschaal cadeau
Een uniek cadeau dat tegelijkertijd gezond en lekker is? Zoek niet langer! Een fruitschaal gevuld met kwaliteitsfruit is een perfect cadeau als iemand ziek is. Ook als bedankje of om te laten weten dat je aan iemand denkt is het ideaal. De goed gevulde fruitschaal van Topfruit.nl is een gezonde verwennerij voor vrienden, collega's, familie. Of wat dacht je gewoon lekker voor jezelf. Bij Topfruit.nl vind je een gevarieerd assortiment met het heerlijkste fruit. Wat je favoriete fruit ook is, bij Topfruit.nl vind je altijd iets dat past bij je wensen.
Moderne stijlvolle fruitschaal
De fruitschaal van Topfruit.nl is gevuld met vers kwaliteitsfruit. En dankzij het moderne en stijlvolle ontwerp een echte eyecatcher op het aanrecht of de keukentafel. De opengewerkte schaal is een doordacht design, omdat het zorgt voor een constante luchtcirculatie. Hierdoor zal het fruit minder snel overrijp worden.
Fruit: gezond en lekker
Wil je iemand feliciteren, bedanken of beterschap wensen? Ben je gewoon op zoek naar een gezond cadeau? Dan is een fruitschaal een heerlijke optie. In fruit zitten veel vitaminen, zoals vitamine C, vitamine A en foliumzuur (vitamine B11). Fruit versterkt je weerstand, ondersteunt het immuunsysteem en kan virussen en bacteriën bestrijden. Naast het feit dat ons kwaliteitsfruit ontzettend veel gezondheidsvoordelen heeft, is het vooral erg lekker.
Verfrissende verrassing
Wil je graag een collega, vriend, familielid of kennis verrassen? Bestel dan nu je favoriete fruitschaal online. Uiteraard kun je een kaartje toevoegen met jouw persoonlijke boodschap erop. Is er wat te vieren voeg dan een uniek geschenk toe aan de fruitschaal, zoals een fles champagne bijvoorbeeld. Wat de gelegenheid ook is, heerlijke fruitboxen of fruitschalen brengen hoe dan ook een glimlach op het gezicht van de ontvanger.
Online fruitschaal bestellen
Wil je graag een goed gevulde fruitschaal bestellen? Bij Topfruit.nl ben je altijd zeker van vers fruit van hoge kwaliteit, dagelijks vers bezorgd. Je kunt gemakkelijk een bestelling plaatsen en op ieder gewenst adres in Nederland laten afleveren. Bestellingen op maandag t/m donderdag voor 20:00 uur worden de volgende dag bezorgd. Op vrijdag en zaterdag kan tot 17:00 uur worden besteld. Kortom, een fantastisch geschenk dat snel bij de ontvanger is.
Read more