Wide range of products

Order in just 3 steps

Buy now pay afterwards

Link with purchasing systems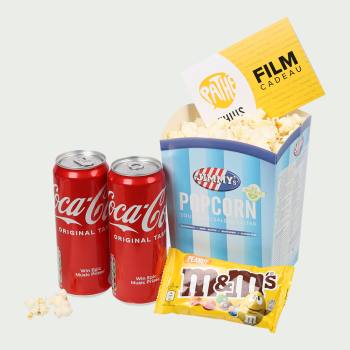 Surprise someone with this super fun movie package for an ideal movie night at home!
Order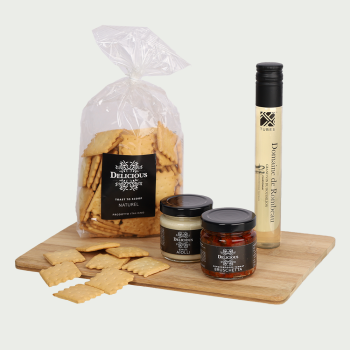 This stylish snackbox has all the ingredients for a successful drink! 2 good glasses of wine with toast for dipping and the special taste of luxury truffle chips to go with it.
Order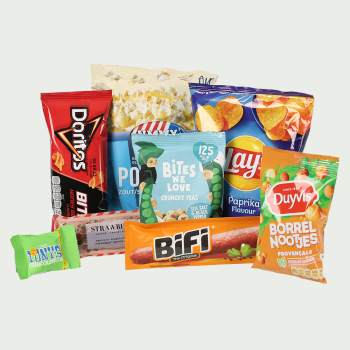 This package is perfect for Friday afternoon drinks with colleagues or as an extra at a webinar. A small gift with a big gesture!
Order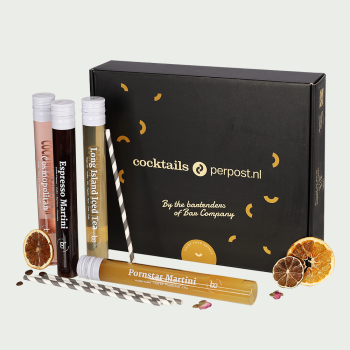 Making the tastiest cocktails at home, who wouldn't want that! This gift set with an entire cocktail tasting provides the perfect kickstart to a fun night out with friends. The gift box contains the cocktails Cosmopolitan, Pornstar Martini, Long Island Ice tea and Espresso Martini.
Order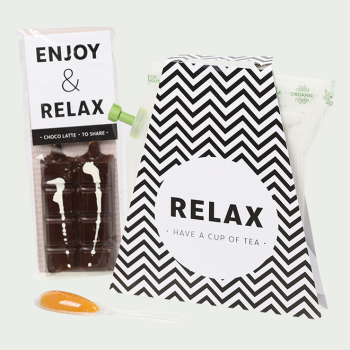 Give this tea moment as a token of appreciation to employees or as a bonus to a webinar.
Order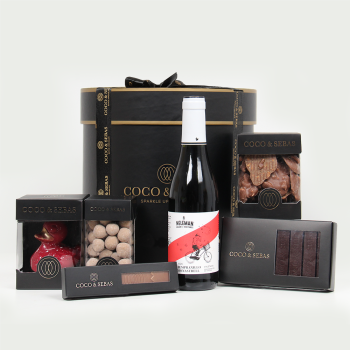 Surprise your family, friends or colleagues with this luxuriously packaged gift box! This beautiful gift has a diameter of 25 cm and is filled with all kinds of delicacies.
Order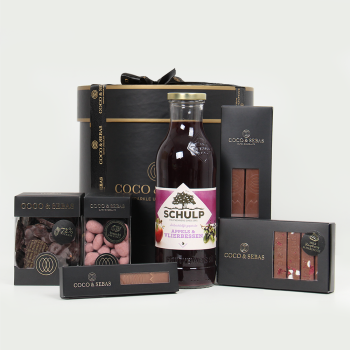 Giftbox chocolate & Schulp juice
Make a grand gesture with this luxurious chocolate gift box! Filled with special chocolate gifts and delicious fruit juice. Enjoy peanut butter cookies, raspberry meringue bites and a milk chocolate bar, among others.
Order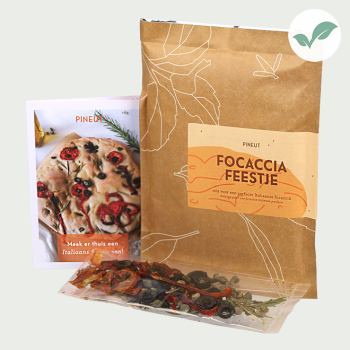 With this bread mix you can make a delicious bubble bread foccacia, all by yourself. But that's not the only thing. With the included vegetables and rosemary, you'll create a real work of art.
Order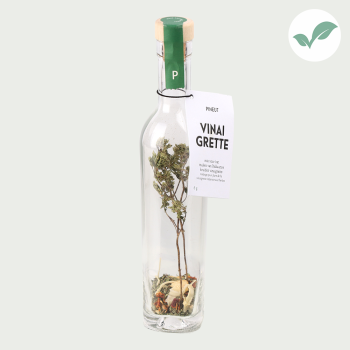 Vinaigrette Italian herbs
A special gift, that's what this bottle can be called. This bottle contains the perfect base for a delicious vinaigrette with Italian herbs.
Order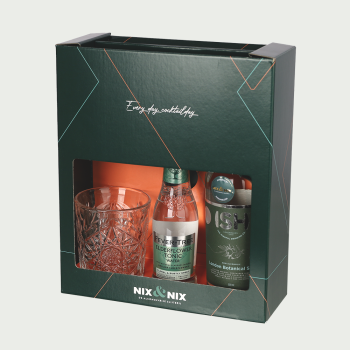 GinISH & tonic package 0,0%
Making the tastiest non-alcoholic Gin & Tonics at home, who wouldn't want that! This non-alcoholic gift provides the perfect kickstart to a fun night out with friends.
Order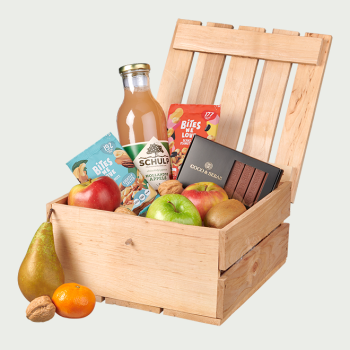 What's more fun than a fruit box filled with fruit? A fruit box filled with nice gifts!
Order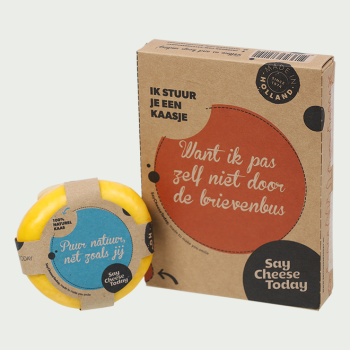 Surprise with an original letterbox gift, because you don't fit through the mailbox yourself!
Order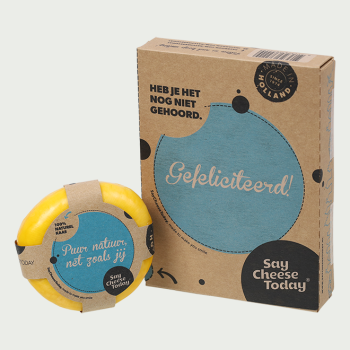 Give a unique gift, through your mailbox! Giving this cheese gift is a super fun way to congratulate someone.
Order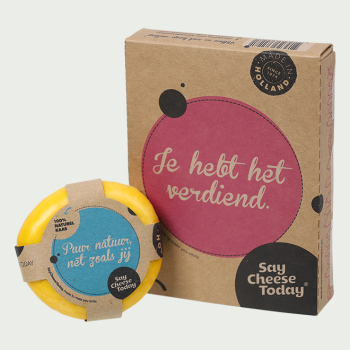 You deserve it cheese
From
Give a unique gift, through your mailbox! Giving this cheese gift is a super nice way to say thank you
Order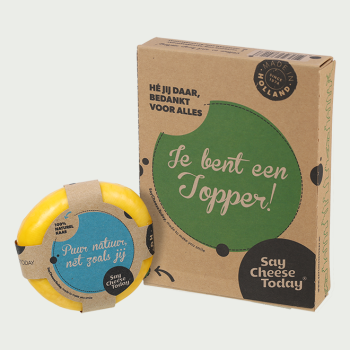 Give a unique gift, through your mailbox! Giving this cheese gift is a super nice way to congratulate someone.
Order
Snackboxes
Friday afternoons are a good time to catch up with colleagues. Complete this meeting with an attractive snackbox from Topgeschenken.nl. Or surprise a business associate or employee with one of our delicious snackboxes. Our packages not only include savoury snacks and alcoholic drinks, but also delicious sweets and fresh fruit juices.
A pampering package for every occasion
Of course, the snackbox is not only suitable for Friday afternoons. It is also fun to give a snackbox as a business gift. It allows you to put a business contact in the limelight. Or you can thank a company's employees for their commitment and support in your business activities. There is a lot of variation in the different types of packages. You will always find a suitable box at Topgeschenken.nl. Give visitors to a seminar a coffee or tea package in a nice gift box. Or choose a snackbox to sent to the home address of a business contact. And surprise the recipient with a gift voucher for a film. With popcorn, drinks and chocolate included.
Have a snackbox delivered
When ordering a snackbox from Topgeschenken.nl, choose an extensive gift box with wine or beer, chocolate or cheese. These are larger packages filled with various matching treats such as olives, nuts or chocolate with peanuts. There are also snackboxes in the form of a box with fresh fruit. You can have these sent as business gifts. But you can also choose to have it delivered to your own address. This way, you can deliver the package personally. Would you like to have your snackbox delivered and be sure that it is delivered directly to the recipient? Then choose a letterbox snackbox. These are also available in different versions.
Make your snackbox a personal gift
By choosing from the Topgeschenken.nl range, you are already adding a personal touch to the business gift. After all, you will be choosing content that completely suits the recipient. Or one that presents your company's philosophy. For example, in the form of a fruit box with organic products. Would you like to underline the message of your snackbox even more? Then choose a personal card to accompany the business gift. You add this card while ordering and type your personal text. Of course, you also state who the sender is, so that the recipient immediately understands who gave the gift and for what reason. Topgeschenken.nl's tasty and diverse regal packages are highly recommended as a business gift for any occasion.
Read more